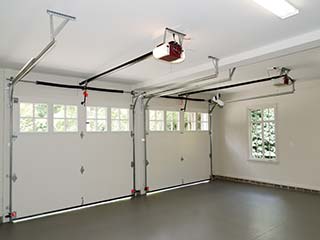 We're a local garage door repair business that puts customer safety and satisfaction above everything else. At every job we do we're always aiming to provide the very best service possible, no matter whether we're fixing a couple of frayed cables or installing a brand new door opener. If you suspect that there's something wrong with your system, or you need to consult with an expert about what type of new door or opener to get, our team is here to help.
Delivering Fast, Reliable Repairs
A malfunctioning garage door is a major inconvenience. We know how difficult it can make your day-to-day life, so our team is dedicated to getting your problem solved as quickly as possible. All of our technicians are highly experienced professionals who know exactly what to look for; it won't take us long to work out what's wrong, and how to fix it. Our experts always carry a wide range of replacement parts with them, so they can carry out any necessary repairs on the spot. This cuts down on work time, and minimizes disruption to your daily routine.
More Than Repair Services
Our team doesn't just repair overhead doors, we can install new systems as well. If you need a new door or opener, our technicians will help you select the perfect one from the many leading manufacturers we work with – like Chamberlain, Windsor, Clopay, and more. Once you've made your choice our team will install it for you and make sure that everything is working as well as it's supposed to.
A Team For All Your Needs
Above all else, we want to make sure that we give our customers the very best service in California. No matter whether you're in need of some emergency opener repairs or spring replacement, Garage Door Repair Poway is the right choice for you; contact us today to find out how we can help.
Arrange An Appointment Today!
Fast And Reliable Repairs
Professional and Affordable
Over 10 Years Of Experience