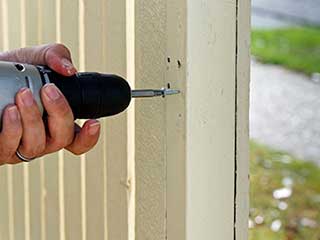 We've been in this business a long time and believe we've raised the bar when it comes to repair standards in Poway, California. All our technicians aim to provide the best repair job or installation service they can
Services Delivered with Expertise
All of the knowledge that we have acquired over the years translates into a firm and acute understanding of gate systems, how they work and the common things that go wrong. We can restore any gate to proper working condition, whether the fault has been caused by user error or usual wear and tear over time.
Inspecting & Upgrading Security Systems
Our technicians are well versed when it comes to the gate security options – we're able to upgrade existing using the full range of technological advancements available on the market today. Whether you're interested in learning more about magnetic locking or hydraulic rail-operated slide gates, we can take you through your options and advice on the best choice in your situation.
Replacement Opener Units
All of the openers that we use are of a high pedigree. We guarantee any replacement components will be sourced from trusted brands, function well and represent value for money. We are constantly on the lookout for new solutions as they come out, as we know staying up to date will benefit our clients in the future. Asides from being experienced and knowledgeable, our technicians are very much open to new ideas and approaches.
Driveway Gate Troubleshooting
Clients all over Poway have benefitted from our work. Regardless of the issue you're grappling with, our experts will be able to troubleshoot the malfunctions and provide a recommended course of action.
To discuss how we can help you, you are welcome to give us a call whenever is convenient for you. It does not matter whether you're in need of a new part or require a replacement part, we are always prepared.
Give our team a call if you need help with: