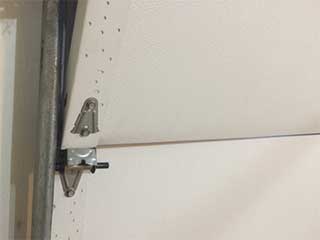 Garages have become almost a "must have" part of most homes. Not only is this a necessity for keeping your car safe from potential burglars or the elements, we've come to rely on these storage spaces for all sorts of things. Naturally, the garage door is therefore an important part of your home and should be treated accordingly. But how much do you really know about this complex mechanism? The average overhead door is a complicated collection of moving parts and very few people give more than a passing thought to what it takes to put together one of these doors.
Let's Take A Look At The Mechanism
For starters, the most common garage doors on the market these days are sectional doors. The tracks of these systems are placed along the ceiling and the door opens overhead, slightly folding into itself in order to conserve space. The springs are the parts that provide the counterbalance tension that allows you to open what is essentially a very heavy piece of wood or metal with little to no effort. Without these components, opening the door would be almost impossible.
A Few More Crucial Parts
The panels, or sections, of your garage door have hinges which make it possible for the door to bend as it opens up overhead. They need to be lubricated every so often in order for the movement to remain smooth. Then you have rollers which move the door along the tracks. They too need to be lubricated, unless they are of the nylon coated variety. Most doors also have a rubber weather seal along their bottom and some type of weather proofing around their frame to prevent exterior weather effects from getting inside.
The Opener Plays A Double Role
This is the motorized unit that provides the horsepower needed to pull or push your door up or down. It achieves this by using a drive-system, usually a belt, chain or a screw type arm that connects to the door via a trolley. There is a huge range of garage door openers available today and the choosing the right one for your door depends on what features you are looking for and your budget. This unit plays the added role of being not only the brawn but also the brain of the system. It houses not only the motor, but also the logic board that stores the operation system that monitors the performance. Since 1993 every single one of these units is required by law to have built-in safety reversal features that will prevent it from closing while something's blocking the door's path. This often comes into play in the form of photo-electric sensors that are attached to the bottom sides of the garage's opening during the installation process.
Why Professional Assistance Is Important
Always remember, that although it doesn't hurt to understand your garage door and how it works, you should always call an expert if you think something may be wrong. Trying to fix things by yourself can lead to serious injuries and further damage other parts of the system. Give our team at Garage Door Repair Poway a call if you need some help.