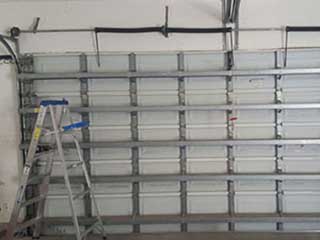 In the long run, regular garage door maintenance can end up saving you a lot of money, time, and headaches. This may seem like a bold statement, but consider this for a moment: isn't it better to catch minor issues before they fully develop? Wouldn't treating a problem early on be cheaper than having to deal with it after it brought your system to a grinding halt? The answer to both of those questions is simple. Yes. That's why you need to call our team and join many other homeowners who benefit from our regular maintenance appointments.
Inspection From A To Z
During our maintenance appointments, our technicians will inspect every single part of your system and test its functionality and its condition. This allows us to detect small issues that will result in larger problems later on, and apply them with the appropriate fix in order to prevent that from happening.
Spring Maintenance Trumps All
If not for anything else, you should at the very least have your garage door spring go through regular maintenance once or twice a year. These components are the muscles of your system, and without them you won't be able to use your door at all. Regular spring adjustment and lubrication is a great way to keep these components in a great shape and reduce the amount of wear and tear they have to go through on a regular basis. Our technicians can do this for you, and we'll also examine their coils while we're at it, and warn you if it looks like you're about to have a broken spring on your hands.
Opener Sensor Testing
Your opener is the most important part of your system, right after the springs, that is. This motorized unit is what allows your garage door to become automated, which is why it needs to be examined and serviced every now and again, just to make sure it stays in a good working condition. The safety sensors are an important part of this unit, as they – like their name suggests – are in charge of your safety. Our technicians will test the sensor alignment and make sure that these crucial components are fully capable of detecting an obstacle that gets in the door's way.
Go Ahead And Book An Appointment
Regular maintenance is the best way to make sure your overhead door system stays safe and efficient. Contact our team at Garage Door Repair Poway to schedule an appointment today.
Our team can also take care of:
Garage Door Off Track Repair
Belt Drive Opener Installation
Torsion Spring Adjustment
Liftmaster Chain Drive Lubrication