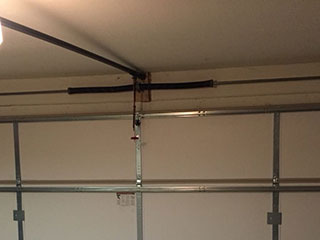 Have you ever taken time to think about the components that make up your garage door? Probably not, but with an appreciation for how it works, you can safeguard against problems before they arise. There is much more to it than simply pressing a button, when the springs involved are responsible for raising and lifting your heavy door. When something goes wrong with one of these springs, you're in trouble. Your best bet is to regularly check to detect any issues that could cause problems later. This way, you'll know when it's time to call a professional, and avoid dangers by keeping your springs in good condition.
What Type of Springs Do I Have?
There are two different types in the operation: torsion and extension. Torsion function from the top of your door, and work by loosening and tightening when you open and close it. They are very strong, and last considerably longer than extension springs. These are crucial too, and work by extending and contracting when you open your door. They are located on either side. Knowing what the springs do can help you identify problems before they occur.
Keeping Your System Balanced
When your door becomes noisy to operate, your springs might be out-of-balance. Though you can easily leave things as they are, this should be a red flag to act. Unbalanced springs can stress out your door, leading to expensive repairs. If you have a balance problem, you can pull the cord to disconnect the door from its automatic system. Try the door manually, and if it doesn't work, call for an expert to fix the problem.
Safety Cables
When your springs fail, there are safety cables which act as a backup. This is great when you consider springs are under a great deal of pressure, so it's important to have safety measures in place. You should regularly assess the condition of your safety cables, since this will offer peace of mind while using your garage door.
Spring Brackets
The springs attached to the bottom of your garage door can easily come out of alignment. When this happens, it can be a dangerous task, but experts can leverage years of experience to attend to this common problem. By taking the correct action, you'll have your door back working again in no time.