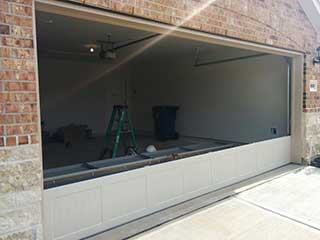 Any overhead door system can develop a wide range of faults, from broken springs to dented door panels. Our technicians can handle all of this and much more, thanks to our expertise and many years of experience.
Replacing Broken Springs
One of the most common problems homeowners face is a broken set of springs. These tough and sturdy components take the weight of your door each time it is used and have an inevitable lifespan. They are subject to wear and will weaken over time; if they completely snap, this is a serious issue. If your springs are broken or worn, our team will quickly replace both springs, and ensure that the weight is properly balanced and the system is correctly calibrated. Don't be tempted to try this yourself - springs can be very dangerous!
Repairing Door Openers
The opener is another extremely important part of your system. This complicated piece of machinery is what controls the automatic function of the whole door, and like any complex machine it can develop faults over time. Our team knows what to look for, and will quickly identify any shorted circuit boards, frayed wiring or broken gears. Our technicians always carry spare parts, and will carry out repairs on the spot for you.
Replacing Door Panels
A dented garage door can spoil the curb appeal of your home, but seriously damaged panels compromise your garage's security and make it easier for thieves to break in. Our technicians can replace any panels as necessary and only source replacements from top brands like Windsor and Clopay.
Expert Maintenance Services
The best way to avoid accidents and breakdowns is to have our team examine your system on a regular basis. We can catch any wear and tear before it leads to more costly and dangerous issues. Regular maintenance can significantly extend the service life of your overhead door's working parts.
Arrange A Service Today
Whether you need a new door panel or an emergency set of springs, we're ready to help. Contact Garage Door Repair Poway today to find out what we can do for you.
We also offer:
Part Replacement & Lubrication
Roll Up Garage Door Services